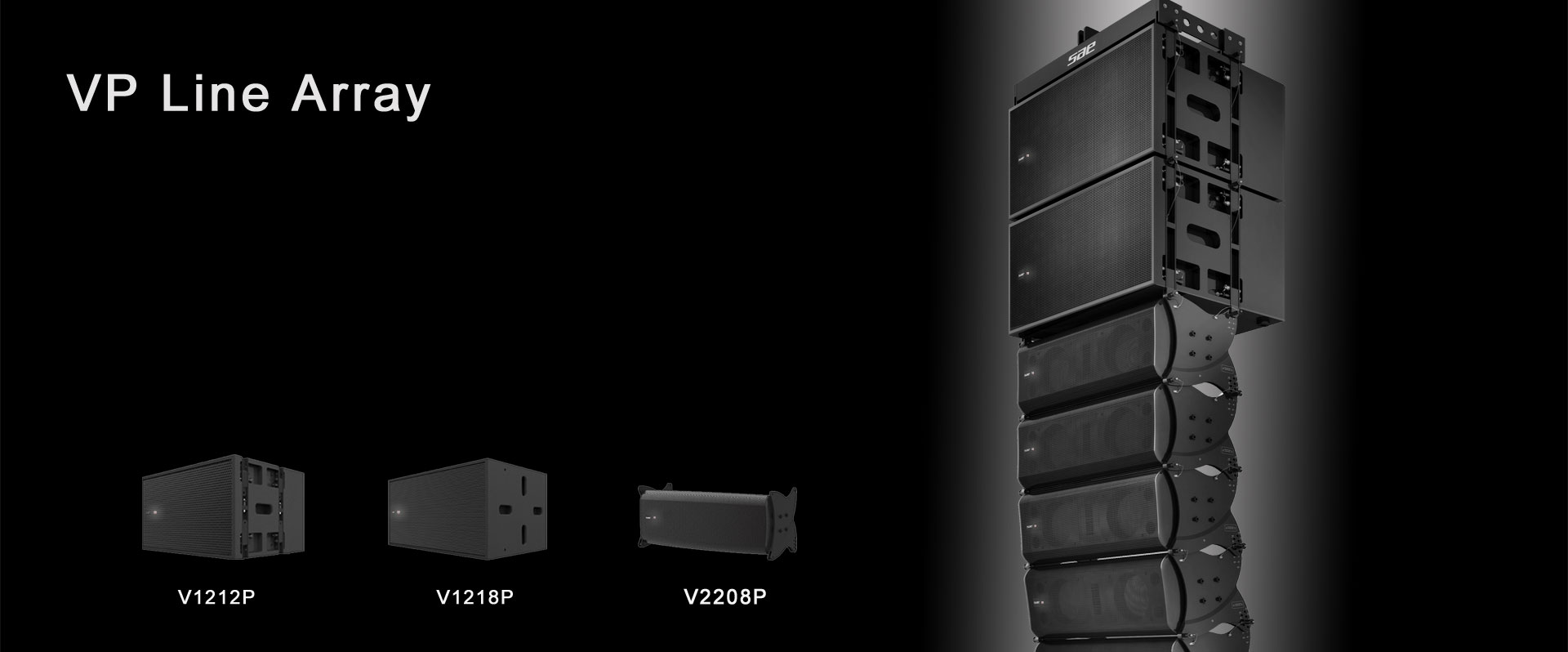 VP Line Array Brochure English
VP Line Array
The VP Line Array is a compact and lightweight, yet extremely powerful 4-way active line array system. It's clever design, European Class D power modules and drivers, result in outstanding performance with a surprisingly natural and powerful sound. The VP is a fully integrated line array system that absolutely excels in any mid-sized fixed or touring sound reinforcement application.
Features
4-way fully integrated line array system.
Extremely compact and lightweight system design.
100° (-6dB) horizontal and 3° (-6dB) vertical constant directivity V2208P horn.
V2208P – High-efficiency smart-enclosure design, 121dB maximum HF SPL (@1m),120dB maximum MF SPL (@1m).
V1212P – Low frequency reinforcement, 129 dB maximum SPL (@1m).
V1218P – Sub reinforcement, 133dB maximum SPL (@1m).
V2208P – Impact resistant HIPS enclosure with aluminum accessories and grille.
European Class D power modules.
High Quality European drivers.
Circuit breaker power switches for over-current protection.
Fly (up to 8x V2208P + 2x V1212P) or stack (up to 4xV2208P + 1x V1212P + 1x V1218P).
Custom rigging accessories and flight cases available.
Available in black or white to match any interior style.
Applications
Sound reinforcement for mid-sized venues.
Fixed installations in Houses of Worship, concert halls, dance venues.
A Full VP System configuration effortlessly handles sound reinforcement demands for audiences of 5000 indoor or 3000 outdoor.
Live touring system for mid-sized rooms.
Fantastic out-fill or delay towers for larger events.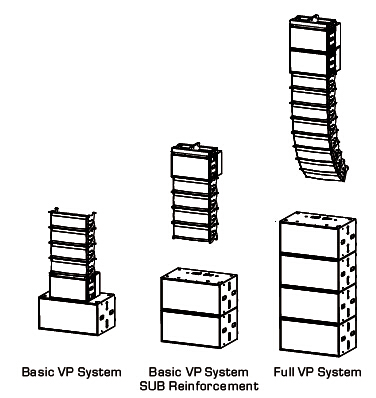 Specifications
Model
V2208P
V1212P
V1218P
Driver Specifications
Speaker type
2-way full-range speaker
Woofer
Sub-Woofer
Speaker Components
HF: 1 x 1.73" voice coil,
2 x 12", 3" voice coil
2 x 18", 4" voice coil
1" throat
LF: 2 x 8", 2" voice coil
Acoustic Specifications
Frequency response*
80Hz-18kHz
55Hz-3.5kHz
38Hz-250Hz
Output Power
HF: 250 W (Class D)
750 W x 2 (Class D)
1500 W x 2 (Class D)
LF: 500 W (Class D)
Max. SPL (at 1m)
HF: 121dB/MF: 120dB
129dB
133dB
Input Sensitivity
0.775V
0.775V
0.775V
Input Impedance
40kΩ (BAL)
40kΩ (BAL)
40kΩ (BAL)
Dispersion Angle
H: 100º / V: 3º
—
—
Suggested Crossover Frequency
HF: HPF / 1.8kHz – 2.5kHz
LPF: 250Hz
LPF: 100Hz
MF: HPF / 250Hz
HPF: 100Hz
HPF: 35Hz
LPF / 1.8kHz-2.5kHz
AC Input Power (±10%)
100V-240V (50 / 60Hz)
230V/50Hz
230V/50Hz
115V/60Hz
115V/60Hz
Other Specifications
Enclosure Construction Material
HiPS
15mm birch plywood
18 mm birch plywood
Colors Available
Black or White
Black or White
Black or White
Grill
Perforated Aluminum Alloy
Perforated steel
Perforated steel
Connections
PowerCon/XLR Parallel
PowerCon/XLR Parallel
PowerCon/XLR Parallel
Adjustable Angle
Adjustable from 0-12º
—
—
on 2º steps.
Weight and Dimensions
Product Dimensions (Specifications)
285 x 670 x 285
380 x 668 x 495
1050 x 530 x 650
Packing Dimensions (W x D x H)
370 x 760 x 420
485 x 785 x 635
1090 x 570 x 675
Net Weight
21 kg
48 kg
83 kg
Shipping Weight
23.5 kg
56 kg
91 kg
[/tab]

Remark:
SAE reserves the right to make any changes to the product specifications without prior otice. Final specifications to be found in the user manual.